Child Nebulisation Doctor In Dwarka
---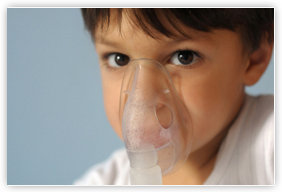 A nebuliser is a machine that converts liquid medication into a fine mist that can then be inhaled. They used to be used by many people to take their asthma medications, but these days are much less common as we have easier, faster and less expensive ways to take the medications.
Before sharing the information about the nebulisation experts, it is important to know what exactly nebulizer process is. It is a procedure to convert a liquid medicine into a fine kind of steam that can be in a straight line inhale in through face mask. It is very good and effectual for small children as it becomes difficult for small kids to release out the sputum like grown-up children or adults. Nebulisation is commonly used for patients with respiratory illness like asthma, sensitive to rhinitis and in a small number of cystic fibrosis as well.
Few unanswered questions that might come in your mind are:
● What can be the frequency to nebulize your Child?
● Can I purchase nebulizers to use at home?
● What are the varieties of nebulizers in India?
● Can there be any side effects of nebulizers?
● What type of medication is used in nebulizers?
It purely depends on the seriousness of a child's respiration difficulty. A doctor may propose as frequently as "one time in every 2 hours" to as occasional as "only prior to doze in the night". If a child is distress from pediatric asthma, he will acquire allergic and face nearly cold, running nose and sneezing troubles which ultimately turn out to be so strong that he has trouble in inhalation. This is where the doctors advise the use of nebulizers for the child as it is the easiest way to supply medication and lend a help to a child.
Dr. Dinesh Singhal says call to nebulize a Child is not a lifelong situation. It only continues till the age of 6 Years. Once children start growing and start up building immunity, steadily the need to nebulize a child vanishes permanently.
You can consult an established Pediatrician, Dr. Dinesh Singhal (specialist in Child care for last 11 Years) and has the exceptional services of Child nebulization in Dwarka, You can book your appointments from Monday to Saturday on: +91 9810427503, +91 11 28033122.
We are opened between:
10.00 AM to 1.00 PM and 06.00 PM to 9.00 PM
You can also visit directly to:
104, 106, Vardhaman Sunder Plaza, MLU Plot No. 12, Sector 12, Dwarka, New Delhi, 110075.
You can send your queries at: info@drdineshsinghal.com